Si vous avec, en plus de Domoticz, quelques sondes Currentcost, nous allons voir comment afficher ces données sur le dashboard Domoticz.
Sur mon serveur linux qui me gère pas mal de chose, j'ai un script Perl qui me parse les données issues du boîtier Currentcost.
Ajout d'un capteur de mesure sur Domoticz
Ajoutez un capteur virtuel (Dummy) à la liste de vos dispositifs.

Une fois créé, récupérez son identifiant idx dans la liste des dispositifs utilisés.

URL JSON
Le format à respecter est le suivant :

http://#IP_SERVER#/json.htm?type=command&param=udevice&idx=142&nvalue=0&svalue=260
Cette requette envoi la valeur 260 au capteur dont l'identifiant est 142.
Il reste donc à modifier mon script Perl pour envoyer une donnée à Domoticz.
Script Perl
La structure Perl est la suivante :
use LWP 5.64;
use URI;
my $browser = LWP::UserAgent->new;

  my $url = URI->new( 'http://192.168.xxx.xxx:8080/json.htm' );
    # makes an object representing the URL

  $url->query_form(  # And here the form data pairs:
    'type'    => 'command',
    'param' => 'udevice',
        'idx' => '142',
        'nvalue' => '0',
        'svalue' => '260',
  );

  my $response = $browser->get($url);

print $response->content;
Plus d'infos sur Perl et les envois de données http : https://www.perl.com/pub/2002/08/20/perlandlwp.html/
Attention pour que Domoticz accepte des données extérieures il faut l'autoriser. Pour cela, dans les paramètres de configuration :
Affichage dans Domoticz
Une fois le script testé et adapter à votre programme, vous devez obtenir quelque chose comme cela dans votre Dashboard :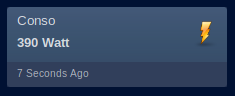 ---
Cet article vous a plu ? Partagez-le 😉


Partager la publication "Afficher sur Domoticz la consommation électrique mesurée par Currentcost"



---