Je note ici une liste d'opération pour configurer une raspberry en serveur web pour une utilisation multiutilisateurs.
Préparer la carte SD

Récupérer la dernière image sur https://www.raspberrypi.org/downloads/raspbian/
Ecriture sur carte SD avec ETCHER -> https://www.balena.io/etcher/
Ajout d'un fichier ssh vide à la racine pour activer le ssh
On branche, on boot, on attend qq minutes…

Connexion en ssh

modifer le mot de passe par defaut, qui est « raspberry »
apt-update + apt-upgrade
Si besoin modifier le proxy pour apt :
cd /etc/apt/apt.conf.d
sudo nano 10proxy
Acquire::http::Proxy "http://yourproxyaddress:proxyport/";
Ajout de LAMP
suivre ce tuto -> http://www.pihome.eu/2017/11/02/install-apache-php-7-0-mysqlmariadb-raspberry-pi-lamp/

Installation de Webmin
copier dernière url de la dernière version sur https://sourceforge.net/projects/webadmin/
$ wget ……………
Gunzip webmin_xx.tar.gz
tar xvf webmin_xx.tar

sudo mkdir /var/www/webmin

$ cd webmin
sudo sh setup.sh /var/www/webmin


les valeurs par défaut sont très bien.


Premiers accès à webmin
http://ip_de_la_raspberry:10000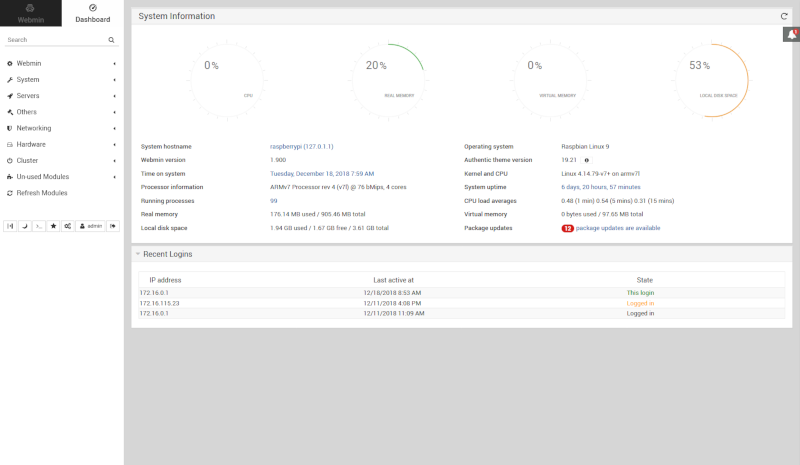 Le dashboard propose les mise à jour qui se font en un clic. C'est beau.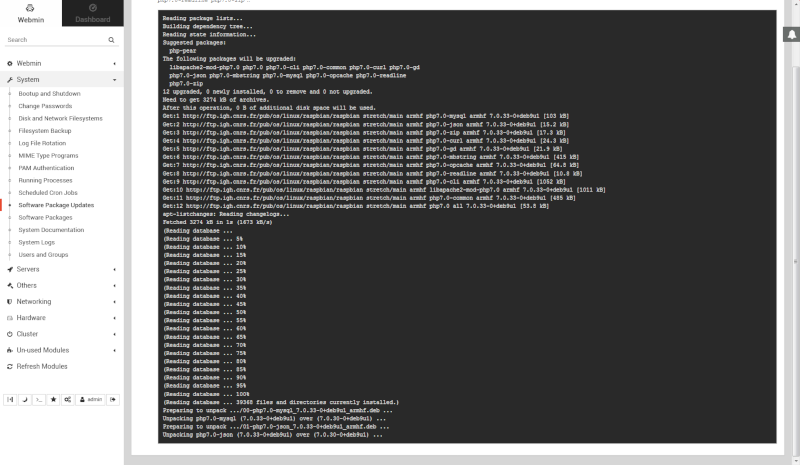 Installation de proftpd
Pour permettre aux usager de déposer des pages web, il faut installer un serveur FTP.
Il suffit de demander à l'installer. Cela prend qq minutes.
Bien indiquer qu'on autorise l'upload (dans Files and Directories):

Création des comptes utilisateurs

Depuis le menu Système / Users and Groups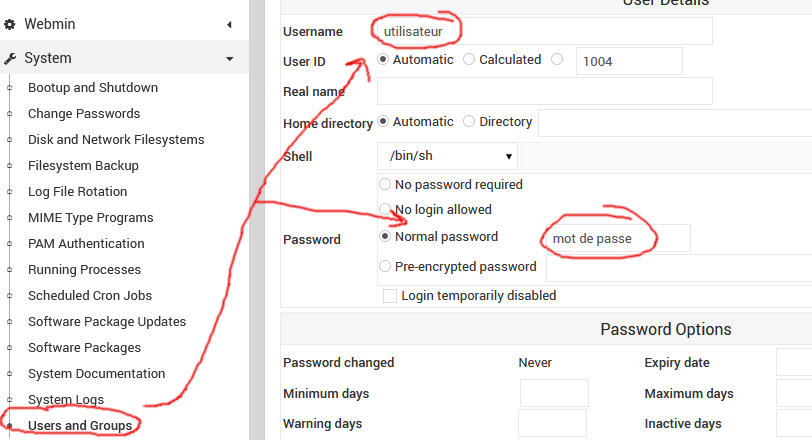 On demande la création du home et pas plus…


Si on teste avec Filezilla, nous arrivons bien sur le /home de chaque utilisateur.

Permettre à Apache2 de lire le /home/userxxx
Pour faire simple car je trouve pas où le faire depuis le dashbord :
cd /var/www/html

ln -s /home/userxxx

Ce qui permet d'ouvrir tout fichier dans le répertoire home en passant par l'url :
http://ip_raspberry/userxxx/
Si besoin :
pour redémarrer ou stopper webmin :
/etc/webmin/stop
/etc/webmin/start
---
Cet article vous a plu ? Partagez-le 😉


Partager la publication "Raspberry en serveur web"



---