Je découvre ce thème, très sympathique. Suite à l'installation d'une dizaine de radiateur, on se rend compte rapidement que le dashboard ne peut pas présenter toutes les infos.

L'idéal serait d'avoir une colonne pour l'activation du chauffage, une pour le thermostat correspondant, une autre pour la température dans la pièce et enfin une pour l'interrupteur réel pour savoir si ce dernier est actif ou pas.
Mais domoticz ne fait pas la différence entre les interrupteurs virtuels et les interrupteurs réels.
Et très vite, ça peut donner ça :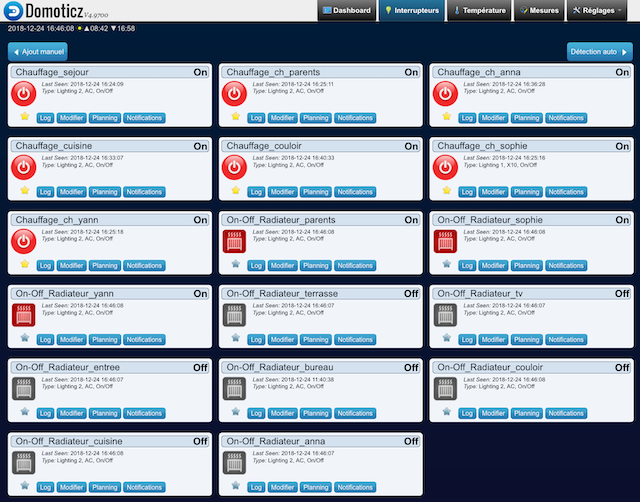 Ici on voit 7 interrupteurs virtuels et 7 interrupteurs réels.
A cet instant, les 7 chauffages sont en marche, mais seul 3 interrupteurs réels sont commandé. Tout dépend de la programmation…
Avec le thème Aurora, on peut regrouper les blocs qui commencent par le même nom.
La documentation dit :
This merges items that have the same name before a dash. It places all their data into the list of data outputs, and uses the parts after the dash as the name for those values. For example:
MiFlora plant 1 – Moisture
MiFlora plant 1 – Light level
…would be merged into one item with the new name « MiFlora », and it would display data called « Moisture » and « Light Level ». The feature will only merge simple items with just one data value.

https://github.com/flatsiedatsie/domoticz-aurora-theme
Cela signifie que si vous avez des interrupteurs nommés :
Radiateurs -chambre parents
Radiateurs -chambre enfant
Radiateurs -chambre cuisine
Tout cela sera regrouper en un bloc « Radiateurs  » avec des sous items :
chambre parents
chambre enfant
chambre cuisine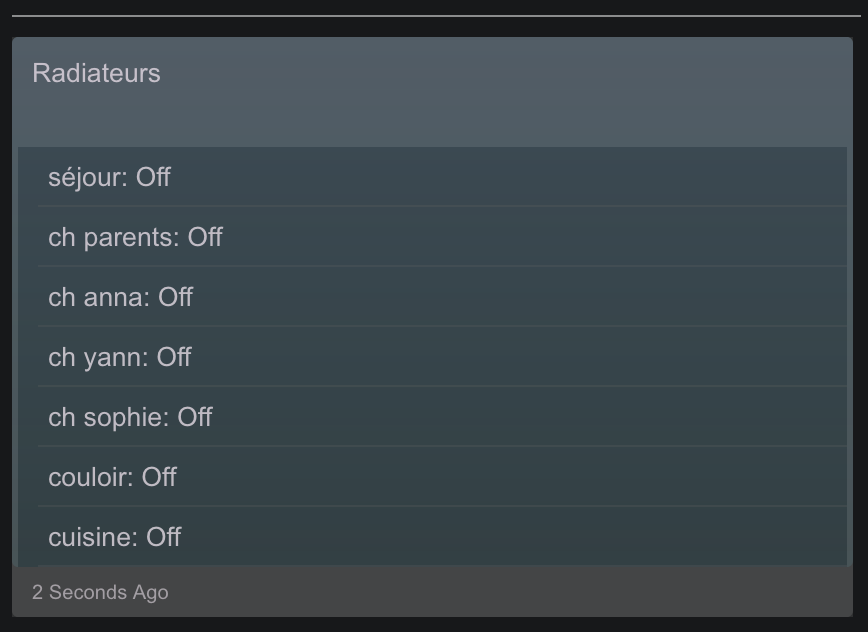 Ce qui donne sur un Dashboard bien chargé :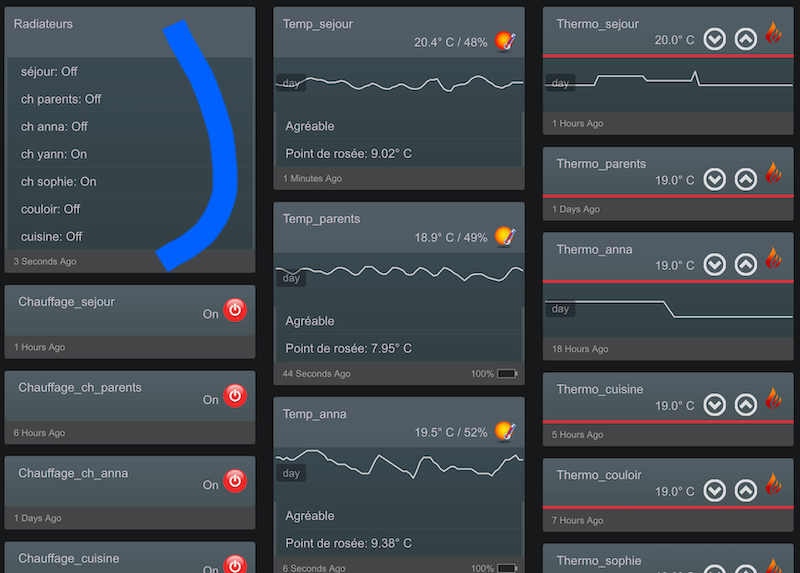 A suivre…


---
Cet article vous a plu ? Partagez-le 😉


Partager la publication "Domoticz : Regrouper les infos sur le thème Aurora"



---