H96 Pro+ c'est quoi ce truc ? Beaucoup de vidéos sont encore encodées avec le codec X264. Mais le codec suivant le X265 commence à être de plus en plus présent.
Hors notre lecteur video à base de Raspberry pi n'a pas la capacité à décoder ces types de fichiers.
Il faut donc se tourner vers des lecteurs possédant une CPU Amlogic S912. Et cette box correspond bien à cet usage.
Vendu sous différentes marques/revendeurs, il faut rechercher H96 en mot clé.
Déballage de l'Android Box H96 pro+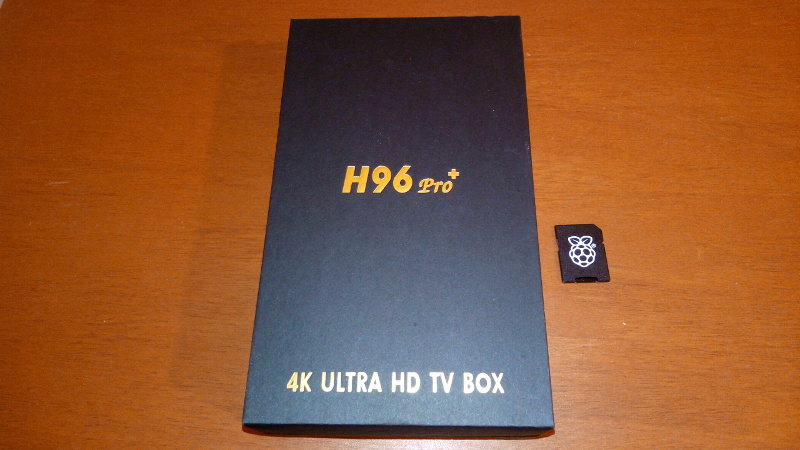 Je vous ai mis un carte mini-sd pour vous donner une idée des dimension de l'appareil…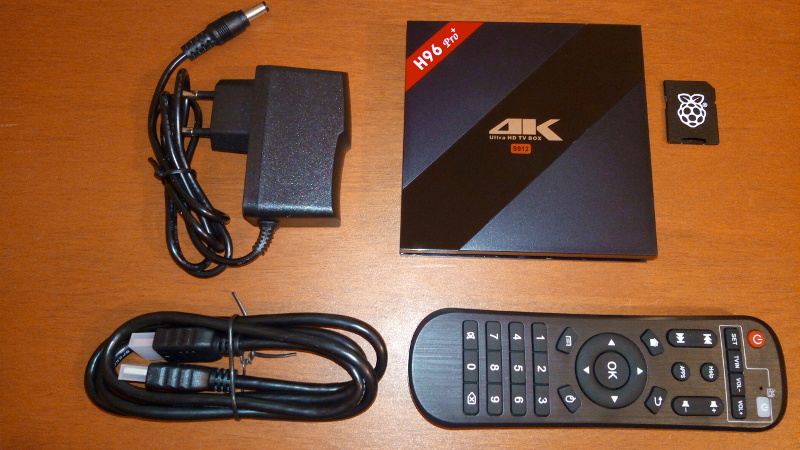 Oui, le lecteur est la boite à peine plus grande que le bloc d'alimenation…
Avec le lecteur H96 Pro+ est livré, un bloc d'alim, un cable hdmi, une télécommande et dans le pac que j'ai acheté il y avait un mini clavier BlueTooth utile pour les diverses applis sur android.
Voici le pac trouvé sur Amazon pour moins de 80€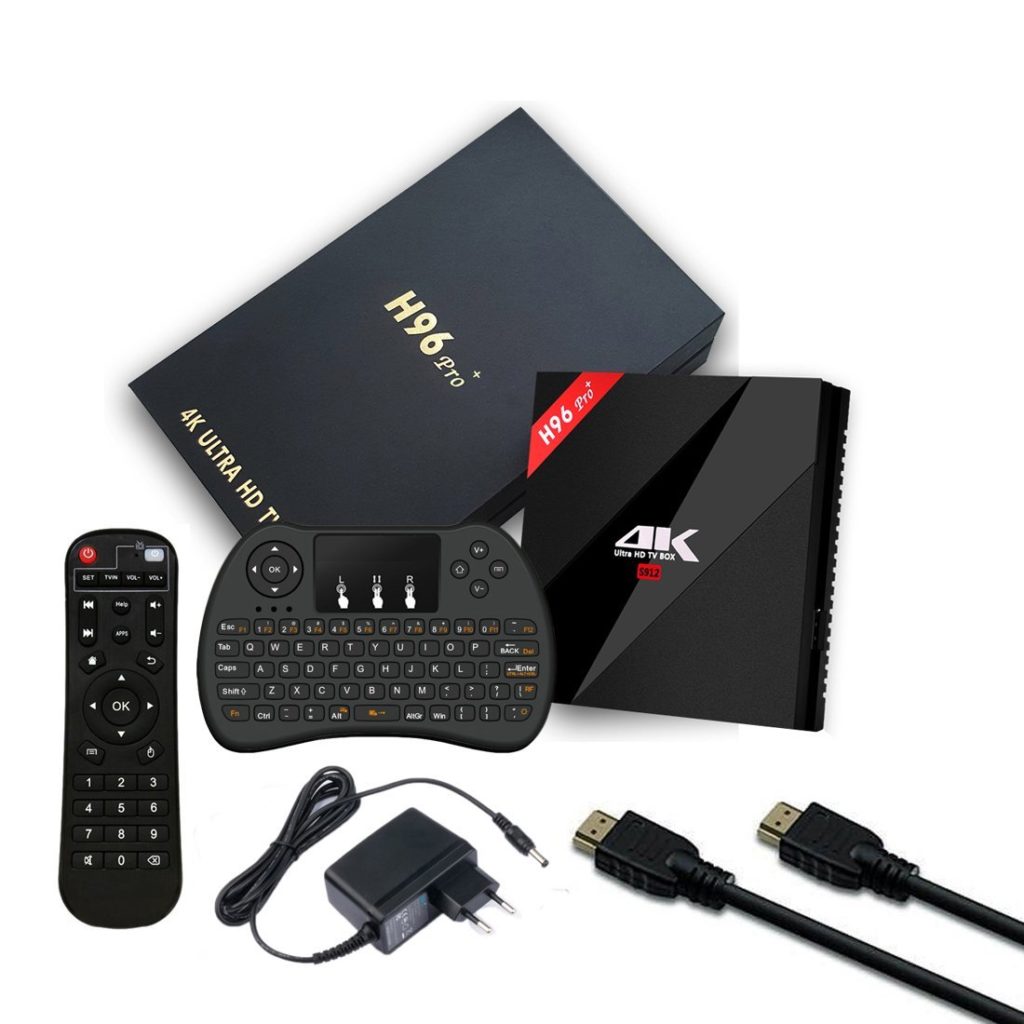 Alors qu'est ce qu'un H96 Pro+
C'est un mini pc qui tourne avec Android 7.1 dont voici les détails techniques :
Configuration du système:
OS: Android 7.1
CPU Amlogic S912 Octa Core ARM Cortex-A53 CPU up to 2GHz(DVFS)
GPU ARM Mali-T820MP3 GPU up to 750MHz(DVFS)
RAM DDR3 3GB
ROM Onboard eMMC Flash 16GB
Ethernet 1000Mbps LAN
WIFI IEEE 802.11a/b/g/n/ac,2.4G+5.0G
BT BT 4.1
Language Multi -language
Antenna Built-in antenna for WIFI
Expand Memory Micro SD Card (Maximum support 32GB)
Button & Ports:
DC-in 1x DC in Port
USB2.0 2x Standard USB Port
HD 1x HD Type Port
RJ45 1x RJ45 (1000Mbps network connection)
SPDIF 1x S/SPDIF
TF Card Slot 1x Micro SD card slot
Power LED 1x power LED with two – color
Décode/Encode
Format Vidéo : HD, Full HD, 4K UHD
Vidéo AVI,AVS,DAT,H.264,H.265,ISO,MKV,MP4,MPEG,MPEG-1,MPEG-4,RM,VC-1,VP9-10 Profile-2,WMV
Audio AAC,FLAC,MP3,OGG,RM,WMA
Dimensions :
Largeur : 10.70 cm
Hauteur : 10.70 cm
Épaisseur : 2.00 cm
Poids : 250 g
Ok, une fois branché ça ressemble à quoi un H96 Pro+ ?
Hop direction le home-cinéma. Je débranche la raspberry. Remplace le tout par le H96 Pro+
J'ajoute mon disque-dur de film de vacances et c'est parti.
On retrouve plusieurs lecteurs video dont KDMC le successeur de Kodi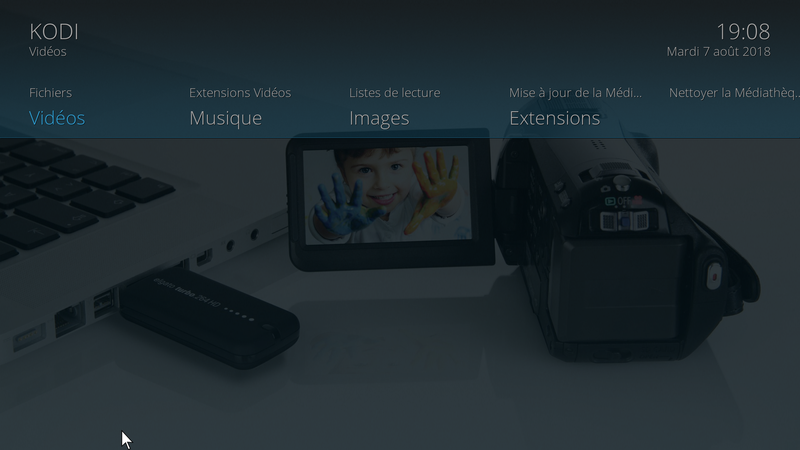 Et voila.
Les videos sont très belles, l'interface est très fluide.
Et j'ai enfin accès aux formats X265 😉
---
Cet article vous a plu ? Partagez-le 😉


Partager la publication "H96 pro+ : Android Box avec KDMC (kodi)"



---